Liverpool v Arsenal Preview
Sunday sees us visit Anfield in the Barclays Premier League. Both sides are yet to pick up their first win and Arsenal will be hoping in particular to pick up their first goal.
Last season we came away from this fixture with a 2-1 win following a 92′ winner from Robin van Persie. Despite the scoreline the 2 sides were fairly even on the stats board but this season there have been a few changes around Anfield. Brendan Rodgers has made some big moves at the club and if Swansea's performance last season are anything to go by, then he has the potential to cause us a few problems. Arsenal transfer target Nuri Sahin secured a move to Liverpool (possibly despite his preferences) and could well feature tomorrow. Andy Carroll has been loaned out to West Ham so our defence may have an easier time at set pieces.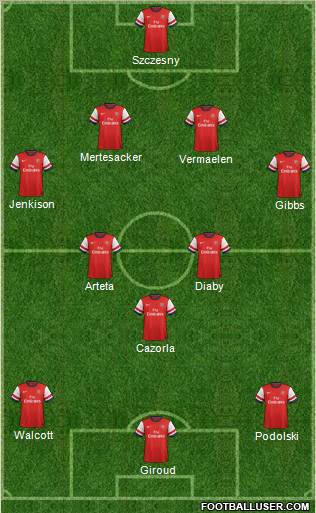 Arsenal Team is expected to be much the same as last week at Stoke. Koscielny is back in the squad but we expect he may start on the bench. Szczesny would be the preference in goal but is facing a late fitness test following a rib injury, if he is unavailable then Mannone will get the nod. If things go like they did at Stoke last week then he wont have much to do.
Midfield again will probably be as before. Cazorla in the free attacking role with Arteta and Diaby holding position in the middle. Forward options are an area we may see a change. We think Walcott may be in for Gervinho with Podolski playing from the left and Giroud through the centre.
Whilst Arsenal have looked solid over the opening 2 fixtures, only lacking goals which we're sure will come. Liverpool have had a poor start. An opening game loss to West Brom followed by a defensive cock up against Man City last week saw them throw away a win against the champions. With the home team showing questionable form it could be a great opportunity for us pick up all 3 points to really kick start our season.